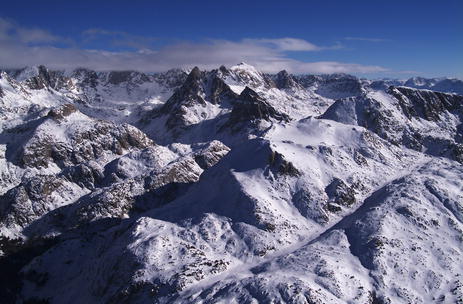 © Rita Donham
Peak Lake Cirque, December 2004
West slope of the Wind River Range, western Wyoming
More glaciers hang on the flanks of the Wind Rivers than anywhere else
in the lower 48. Out of sight, in the deep cirques and canyons, are paternoster lakes fed by retreating glacier ice. To the right of the cirque at upper left
are Sulphur and Stroud peaks, then Brimstone and Bow mountains.
In the clouds at far left are Twin Peaks and Split Mountain embracing
Mammoth Glacier on their northeast face.